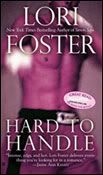 Title:
Hard to Handle
Author:
Lori Foster
Publisher:
Berkley
Published:
2008
Pages:
648 (eBook)
Genre:
Suspense/Romance
Series:
Fighter Series Book #3
Harley is an ultimate fighter trying to obtain the all illusive SBC title belt. He has been in this situation before...but circumstances beyond his control and injuries has kept him from fighting for it. But nothing is going to get in his way this time, not even women...unless their name is Anastasia. As much as he would like to forget her...circumstances keep throwing them together.
I loved Harley in this book...he is a determined lean mean fighting machine. He is thoroughly focused on his goal of winning the belt, yet he doesn't let it consume him when it comes to protecting his friends. He cares enough about his family by letting his only living relative, Uncle Satch, manage his career even though they don't see eye to eye on how it should be done. He is definitely an alpha male yet he has his vulnerable moments too.
Anastasia is a life coach...helping people reach their goals in life. And even though Harley doesn't want anything to do with her "coaching," he still would like to get to know her on a more personal level. She doesn't act like the typical female...she isn't falling all over herself to get Harley's attention. In fact, she doesn't want a relationship with him at all. They dance around each other as the sparks between them fly...and when they finally do get together...it is an all-consuming fire! I loved her strength in this story. She is a self-sufficient woman with a great career. She doesn't fall for Harley's good looks...she falls for the man he is on the inside.
The only complaint I have of this book is that the title fight didn't last long enough. I would have liked a little more "edge of the seat" fighting. But, all in all it was a great, fun, exciting read. There is an underlying mystery in the story...someone is trying to harm Anastasia...or is it Harley that is in harms way?? You won't get the answer from me! LOL.
You can read my other review
here
. To read a couple of excerpts from the book, go to
Lori Foster's website
.



Rating: 3.75/5
Pages: 648 (eBook)
Completed: 3/1/10