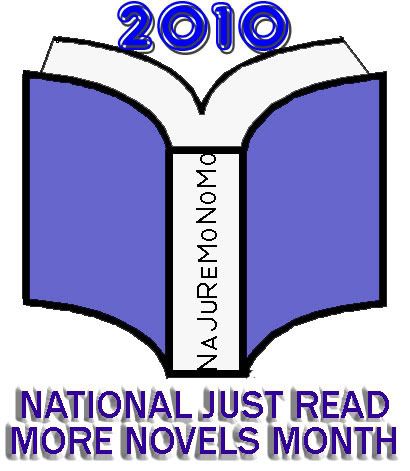 NaJuReMoNoMo
encourages people all over the world to take some time and curl up with a good book.
The guidelines are:
Must Be A Novel.

Works of fiction only, please. Memoirs, non-fiction, how-to books, and Garfield collections don't count.

Memoirs Aren't Novels.

No matter how made up the story, anything ostensibly true isn't a novel. Also known as The James Frey Rule.

Start and Finish in January.

I guess if you got some cool books for Christmas, Hanukkah or some other gift-giving event and jumped the gun, you can't be blamed. But I only count books I start and finish within the 31 day window.

Re-reading Doesn't Count.

Try something new. Read something by your favorite author or try an entirely new author or tackle that novel you have always wanted to read.

Have Fun.

Nobody is grading you or paying you or judging you. Read what you like and like what you read.
There are cute little badges that you can earn depending on how many books you read during the month of January. This will be my first year in joining this challenge...I really enjoy the "no pressure" aspect of it - LOL!!
Here is my book list with links to my reviews:
Naked in Death by J.D. Robb - 1/3/10
The Warrior by Sharon Sala - 1/6/10
Before Sunrise by Diana Palmer - 1/8/10
If He's Wicked by Hannah Howell - 1/16/10
The Playboy Sheikh's...by Sharon Kendrick - 1/18/10
The House on Tradd Street by Karen White - 1/19/10
Born in Fire by Nora Roberts - 1/21/10
Dead in the Water by Stuart Woods - 1/23/10
Hard to Hold by Stephanie Tyler - 1/28/10
Satisfaction Guaranteed by Lucy Monroe - 1/29/10