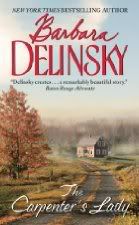 Title: The Carpenter's Lady
Author: Barbara Delinsky
Publisher: Avon
Published: 1983
Pages: 316
Genre: Romance
This is a sweet beautiful romance that is being reprinted (I think because I saw it at Borders last week). And as long as you remember that it was written in 1983...the time of the typewriter, no cell phones, and the heroine saying "no" but the hero thinking she really means "yes"...then I think you will enjoy this romance. Barbara Delinsky pens a remarkably beautiful story that encompasses triumph over the past, the courage to tear down walls erected around the heart, and believable characters. I really enjoyed this book and probably will be rereading it sometime in the near future.
Debra is a writer for a popular soap opera who moves from New York to a small town in New Hampshire. There she tries to repair her shattered emotions as well as restore the old farmhouse she bought. And the only person to help her on both accounts is the enigmatic Graham Reid. Graham is hiding from a bitter past himself, but reluctantly takes on the job of restoration not suspecting to find himself enamored with the owner of the house. Together they struggle to find the courage to build on the promise of new love.
I loved the tidbits here and there about house restoration interwoven into the framework of the book. These are my favorite types of books...where restoring older homes is the backdrop for a beautifully written romance. Debra is a strong heroine pitted against the gruff and tough Graham. She sees beyond the exterior to the hurting man inside. Will they get their "happily ever after"?? Not if Debra's ex-husband can help it.
You can read my full review
here
.



Rating: 3.5/5
Pages: 316
Completed: 2/19/10