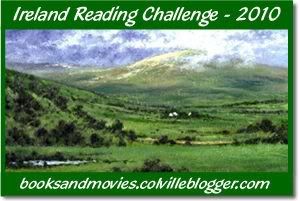 I know I've joined like a million challenges this year...but I could not pass this one up. Not only does it have a beautiful button, but Ireland is one of my favorite places and would love to travel there someday.

The Ireland Reading Challenge is being hosted by Books and Movies and here is what she states the rules are:


~ Join anytime. The challenge runs from February 1, 2010 to November 30, 2010.
~ Any books read for this challenge can also apply to other challenges you are working on.
~ Re-reads are allowed.
~ Any book written by an Irish author, set in Ireland, or involving Irish history or Irish characters, counts for the challenge – fiction, non-fiction, poetry, audiobooks, children's books – all of these apply.
~ Choose your commitment level:

Shamrock level: 2 books
Luck o' the Irish level: 4 books
Kiss the Blarney Stone level: 6 books
If you complete your challenge and write at least one review...you are eligible for the giveaway prize at the end of the challenge: a copy of
Ireland: A Novel
by Frank Delaney.
So go forth,
sign up
, and have fun traveling to Ireland!!!
My commitment level is going to be
Luck o' the Irish
level: 4 books
Here is my list with links to my reviews: