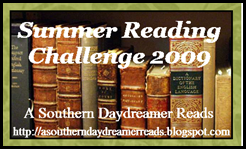 Since I didn't do so well on the Spring Thing Reading Challenge, I thought I would try a Summer Reading Challenge...LOL. This challenge is being hosted by Susan at A Southern Daydreamer.

The challenge runs from June 21, 2009 to September 21, 2009. All you need to do is make a list of the books you want to read and link back to her post. Then, in September, you do a follow-up post to let everyone know how you did.

Here is my list:

Ocean Between Us by Susan Wiggs
Shelter Mountain by Robin Carr
The Winter Lodge by Susan Wiggs
Stealing Home by Sherryl Woods
Montana Creeds: Dylan by Linda Lael Miller

I will also read some Harlequins and some Library Books - so I will definitely be adding to this list once I find out what interests me at the library.
As you can tell, I will be reading a lot of "comfort" "beach" reads this summer. Just sittin back, takin it easy kind of reads.