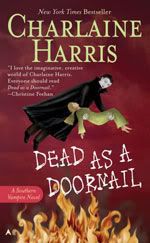 Title: Dead as a Doornail
Author: Charlaine Harris
Publisher: Berkley
Published: 2009
Pages: 295
Genre: Paranormal
Series: Sookie Stackhouse - Book #5

I love this series so much...Sookie is a down-to-earth, hardworking, kind, and compassionate heroine. She doesn't have many close friends, but those she does have she considers family...and she'll do anything to protect her family. Charlaine Harris creates a world that you want to return to again and again.

Then, of course, there are the vampires, werewolves, and other supernatural beings. What an array of characters to liven up the night!! Ever since Sookie started dating a vampire (in the first book), she has been pulled into many adventures - some of them deadly.

You can read my full review here.








Rating: 4/5
Pages: 295
Completed: 12/4/09