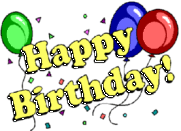 It is time to "Celebrate The Author" for February. I chose my favorite Harlequin Presents author, Helen Bianchin. I absolutely love all her books and reread them over and over.
Most of her books are based in Australia. She has such a way of writing that creates vivid pictures in your mind and makes you hope for the ultimate love. They are feel good, hot and steamy, ultimate love, great reads. You can find a list of all her books and a brief biography at
Fantastic Fiction
.
I reread my two favortite books this month,
The Spaniard's Baby Bargain
and
The Greek Bridegroom
. I have read these two so much that my books are starting to show some wear and tear - LOL. You can find my full reviews
here
.
The Spaniard's Baby Bargain
:
Rating: 5/5
Pages: 186
Completed: 2/28/08
The Greek Bridegroom
:
Rating: 5/5
Pages: 184
Completed: 2/29/08