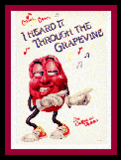 I completed the I Heard It Through the Grapevine challenge. This was a fun challenge as it gave me the opportunity to read books that others had recommended and give credit to those people for their wonderful suggestions. The rules of the challenge were to read 3 books that were recommended to you.

Thank you Lynne for hosting this challenge.

To see the books I've read, who recommended them to me, and links to my reviews, please see my original post on this challenge.