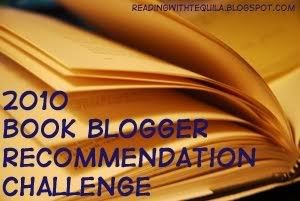 What an awesome list of books to choose from!! The
2010 Book Blogger Recommendation Challenge
is being hosted by
Reading with Tequila
. All you have to do is choose a level of participation and read that many books from the
Book Blogger Recommendation List
. There are 234 books to choose from...so I know you can find at least 5 (Level I) that interest you!!!
Level I
- Read 5 books from the 2009 Book Blogger Recommendation List
Level II
- Read 10 books
Level III
- Read 15 books
Level IV
- Read 20 books
Level V
- Read 20+ books
Go over to the
List Post
and discover new books that you would like to read...then head on over to the
Sign-Up Post
and join in the fun!!!
Here is my book list:
Dark Lover by J.R. Ward
Undead and Unwed by Mary Janice Davidson
One for the Money by Janet Evanovich
Marley & Me by Josh Grogan
The Lucky One by Nicholas Sparks
There are a few others that I want to read but don't want to lock myself into reading a lot of "pre-chosen" books. If the mood strikes, and I read more...I will increase my level to Level II.