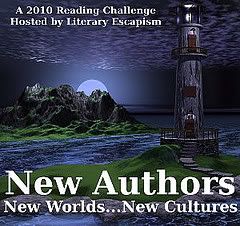 I love reading new to me authors and adding them to my ever-growing list. Finding new authors and discovering their backlists is like opening a treasure box!!
So I am joining this challenge for next year. The rules are pretty easy. Find an author you've never tried before...however, only a third of your authors can be from anthologies. You can pick 15, 25 or 50 authors depending on how adventurous you are. But don't take my word for it - you can read all about the challenge over at
Literary Escapism
.
I am going to choose 25 new authors for next year.
Here is my list of books:
The House on Tradd Street by Karen White -

1/19/10

Hard to Hold by Stephanie Tyler -

1/28/10

Coming Undone by Lauren Dane -

2/15/10

Zack: Armed and Dangerous by Cheyenne McCray -

3/1/10

Hard to Handle by Lori Foster -

3/1/10

Rewriting Monday by Jodi Thomas -

3/8/10