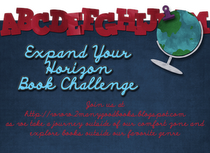 I love reading many different genres, and I thought this challenge would fit in nicely next year.
This
Genre Challenge
is being hosted by 5Peasinapod over at
2 Many Good Books, 2 Little Time
! For those who get stuck reading the same genre, this challenge will help you expand your horizons and experience new and exciting books.
I'm not sure how many books are required, she doesn't say in her
sign-up post
. So, I will commit to 12 books this year.
Here is my book list with links to my reviews:
POLICE - Naked in Death by J.D. Robb

1/3/10

ROMANCE - The Warrior by Sharon Sala

1/6/10

HISTORICAL - If He's Wicked by Hannah Howell

1/16/10

LAWYERS - Dead in the Water by Stuart Woods

1/23/10

DETECTIVE/SPY - "D" is for Deadbeat by Sue Grafton

4/10/10