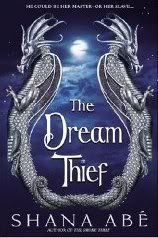 What an excellent read! This is the second book in Shana Abe's dragon series. The Dream Thief is a great example of Shana Abe's wondrous imagination, and her rich and evocative language. She is truly a gifted storyteller.

Zane, the ruler of London's criminal underworld, and Lady Amalia, the daughter of the clan's Alpha, set off on a journey to recover Draumr, the only gem with the power to enslave the drakon. With her ability to see into the future, Amalia is certain the Zane is her destiny but, can she trust him. With the diamond in his hand, Zane will have the power to control the drakon.

You can read my full review
here
.
Rating: 4/5
Pages: 277