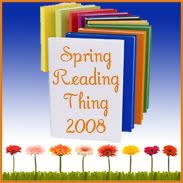 Completed another challenge...this one hosted by Katrina over at Callapidder Days. I loved this challenge - it kept me on track and helped me accomplish a lot of reading.

Here is the list of books that I completed.

March

Grave Sight by Charlaine Harris - Review

April

Light of the Moon by Luanne Rice - Review
"C" is for Corpse by Sue Grafton - Review
Twilight by Stephenie Meyer - Review
Never Change by Elizabeth Berg - Review
The Smoke Thief by Shana Abe - Review
Someone to Love by Jude Deveraux - Review
The Master of Blacktower by Barbara Michaels - Review
Jewels of the Sun by Nora Roberts - Review
Dance Upon the Air by Nora Roberts - Review

May

The Summerhouse by Jude Deveraux - Review
The Choice by Nicholas Sparks - Review
The Thirteenth Tale by Diane Setterfield - Review
Summer at Willow Lake by Susan Wiggs - Review

June

Aunt Dimity's Good Deed by Nancy Atherton - Review
Dead to the World by Charlaine Harris - Review
Blue Dahlia by Nora Roberts - Review
The Face of Deception by Iris Johansen - Review

I read a total of 18 books in all. Here is a link to my original post.

Katrina listed some specific questions she thought would be fun for us to answer about the challenge:

Did you finish all the books you planned to read? Yes, I finished all 12 I had planned to read plus 6 more!!
Did you think the challenge helped you read more? Yes, I read more than I thought I would, and I also read a few that were outside of my normal reading genres.
What was your favorite book you read this spring? The Thirteenth Tale by Diane Setterfield.
What was your least favorite? Someone to Love by Jude Deveraux.
Did you discover any new authors or genres that you now love? Yes, I discovered Iris Johansen and the genre of murder mysteries. I absolutely loved The Face of Deception and can't wait to get into the rest of the series by her.
What did you learn about your reading habits and interests? I learned through several of my reading groups that you don't have to finish a book that you don't like. And that it is okay to start more than one book at a time. I love this new freedom as now I can put a book down, start another one that interests me, and then go back to the other book when I want to. I was really regimented in my reading.
Are you interested in "Fall Reading Challenge?" Definitely, YES!!!
Thanks you so much Katrina for hosting this great challenge!!!