COMPLETED 12/31/08
I heard about this great challenge from J.Kaye over at J.Kaye's Book Blog. This challenge is being hosted by Yvonne and has its own blog The Harlequin/Silhouette Reading Challenge.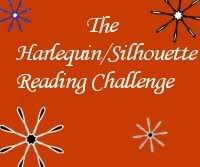 I am really excited about this challenge because I absolutely love Harlequin/Silhouette books. They are my favorite type of easy, feel-good reads. And I have tons on my TBR list.

The rules are simple:

** Choose 5 Harlequin or Silhouette books from any of their series.
** Read them between now and December 31, 2008.
** Post a brief review about the books.

They can be from other challenges too. Here is the list of books that I have chosen:
Thanks J.Kaye for blogging about this, and thanks to Yvonne for hosting the challenge!!!