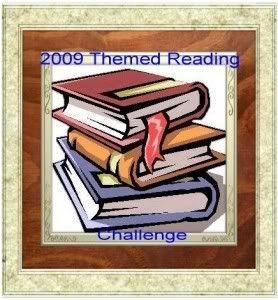 Wendy of Caribousmom is hosting the 2009 Themed Reading Challenge. There are 3 ways to play.

Read at least 4 books that share a single theme.
Read at least 5 books that share two themes.
Read at least 6 books that share more than two themes.
The books must be chosen from your TBR stack (actual physical stack or virtual stack). The goal is to read 4 to 6 books linked by a theme. Themes can be anything of your choosing - be creative. Wendy has suggestions on her post, but really the creativity is up to you.
The Challenge runs from 2/1/09 to 7/31/09 and sign-ups close on March 30th.
I am choosing to read 5 books that share two themes - women authors and vampires. I love the paranormal genre and read a number of women authors that share that same passion.
Here is my tentative list:
1. Charlaine Harris - Sookie Stackhouse book
2. Sherrilyn Kenyon - Dark Hunters
3. Dead Sexy - Amanda Ashley 2/12/09; Review

4. A Hunger Like No Other - Kresley Cole 6/17/09; Review

5. The Vampire Shrink - Lynda Hilburn 3/22/09; Review

6. Night's Touch - Amanda Ashley 3/17/09; Review