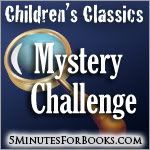 Since I am already involved in the
Nancy Drew Challenge
, I thought this would be a great one to join too. The
Children's Classics Mystery Challenge
is being hosted by
5 Minutes for Books
and it only runs from January 1, 2010 through June 30, 2010.
Here's what Carrie says:
Really, you are welcome to participate as much or as little as you like. The plan is to Make-Your-Own plan. Would you like to reread those Nancy Drew books you've had lying around? Trixie? Or mix and match! The choice is yours. All that we ask is that you write up an initial post saying that you and/or your children are going to be participating in this challenge and link back to this introductory post.

Then, on the second Tuesday of each month we will have a post wherein you can link up any and all reviews you have written in the previous month. For example, on January 12 you can link up your introductory post or any reviews you've completed, so feel free to start reading now. Books, movies, audio, and even video game (oh yes!) reviews may be included and are most welcome.
Which series qualifies as a classic? Anything that came into being before 1980.
Sounds like fun doesn't it?? I loved Nancy Drew as a child, and Carolyn Keene and Laura Ingalls Wilder gave me my love of books.
I am not sure how many books I can complete by June...however, if I am to complete the Nancy Drew Challenge as well...I should be on my way to 25 by June.
Here is my book list: