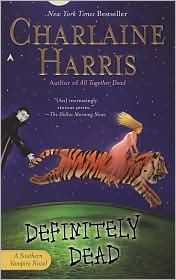 Title: Definitely Dead
Author: Charlaine Harris
Publisher: Berkley
Published: 2006
Pages: 324
Genre: Paranormal - Vampire, Shape Shifter, Psychic
Series: Sookie Stackhouse #6

I really think that Sookie Stackhouse enthusiasts will enjoy this book. A few loose ends are cleared up, new information is revealed, and there may be a new love interest in Sookie's life - but I'm not telling - LOL.

Sookie goes to New Orleans to clean out the apartment of her dead cousin and close the estate. Little does she know that she will discover something gruesome in the closet, become involved in the Queen of Louisiana's politics, and get herself kidnapped. All in all, another great adventure for Sookie.

You can read my full review here.








Rating: 4/5
Pages: 324
Completed: 12/19/09