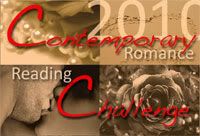 Another challenge for a genre that I absolutely love....contemporary romance!!
The Contemporary Romance Reading Challenge
is being hosted by Pearl over at
Pearl's World of Romance
.
This challenge is for straight contemporary romances only...no paranormal, fantasy, time-travel, etc. Category romances are okay, as well as sexy, steamy romances.
The rules are to read 10 contemporary romances between 01/01/10 through 12/31/10. You don't need to list your books ahead of time, and you can change your mind throughout the year.
So all you romance lovers out there...jump on over to Pearl's and
sign up
for this fantastic challenge.
Here is my list of books:
Born in Fire by Nora Roberts - 1/21/10
Satisfaction Guaranteed by Lucy Monroe -

1/29/10

Coming Undone by Lauren Dane -

2/15/10

The Carpenter's Lady by Barbara Delinsky -

2/19/10

Release by Beth Kery - 2/21/10
Vision in White by Nora Roberts -

2/26/10

Hard to Handle by Lori Foster -

3/1/10

Fragile by Shiloh Walker -

3/21/10

Instant Attraction by Jill Shalvis -

3/27/10

Bed of Roses by Nora Roberts -

4/10/10

Savor the Moment by Nora Roberts -

5/4/10