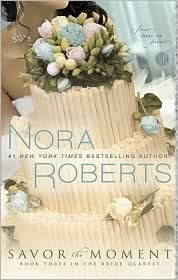 Title:
Savor the Moment
Author:
Nora Roberts
Publisher:
Berkley
Published:
2010
Pages:
325
Genre:
Contemporary Romance
Series:
Bride Quartet - Book #3
Hero:
Delaney Brown
Heroine:
Laurel McBane
Another good book in the Bride Quartet series! Laurel is the baker of the group in charge of wedding cakes and other confectionary delights for the weddings that Vows plans. I loved learning about the intricacies of cake decorating, dealing with brides, and all that goes into making the perfect wedding cake. Each book focuses on a different aspect of planning a wedding. Nora Roberts does an excellent job with expertly weaving the details of each aspect throughout the book without giving too much detail that overshadows the storyline.
Laurel is the more low-key, practical friend of the foursome. She believes in romance...but in theory only. Her no nonsense approach to relationships is so different from Emma's romantic dreams in book two. Delaney is the lawyer for the company. He is also the older brother to one of the friends and has always considered all the ladies as his sisters. He was always protective of them while they were growing up. So, he is very concerned when his thoughts turn to romance in regards to Laurel. After the kiss they share in her kitchen, he just can't quit thinking about her. Little does he know that Laurel has had a crush on him since she was a teenager. They decide on a platonic dating relationship for a month...didn't want to muddy their friendship with sex if it wasn't going to work out between the two of them.
I loved how this story ended...great beach scene, perfect amount of romance, and of course, a teary moment for those of us who love Happily Ever Afters.
You can read my full review at
World According to Books
.




Rating: 4.5/5
Pages: 325
Completed: 5/4/10