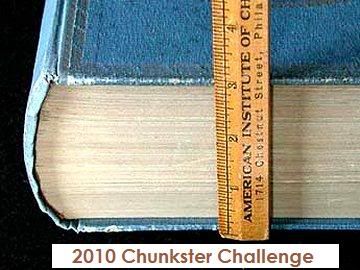 I love this challenge...
2010 Chunkster Challenge
has been passed along to Wendy and has its own
dedicated blog
. This challenge is for anyone who loves to read those big chunky books...I'm talking about the ones that are over 450 pages. However, it is ADULT literature (so Twilight doesn't count).
Here are the Rules posted on the
blog
:
No Audio books in the chunkster

. It just doesn't seem right. Words on paper for this one folks.

No e-Books allowed

- we are reading traditional, fat books for this challenge.


Short Stories and Essay collections will not be counted

.

Books may crossover with other challenges

Anyone may join.

If you don't have a blog, just leave me a comment on this post with your progress (and to let me know you are playing)

You don't need to list

your books ahead of time.


Once you pick a level, that's it...you're committed to that level!
There are three levels of participation:
The Chubby Chunkster

- this option is for the reader who has a couple of large tomes on their TBR list, but really doesn't want to commit to much more than that. 3 books is all you need to finish this challenge.

Do These Books Make my Butt Look Big?

- this option is for the slightly heavier reader who wants to commit to 4 Chunksters over the next twelve months.

Mor-book-ly Obese

- This is for the truly out of control chunkster. For this level of challenge you must commit to 6 or more chunksters OR three tomes of 750 pages or more. You know you want to.....go on and give in to your cravings.
Since I am not sure what chunksters I have sitting around waiting to be read...I am going to go for the
Chubby Chunkster
level and read 3 books.
Here is my book list: