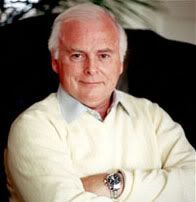 Time to CELEBRATE THE AUTHOR for the month of January. I chose Mr. Stuart Woods who was born January 9, 1938 in a small southern town in Manchester, Georgia. He published his first novel, Chiefs, in March on 1981. His first Stone Barrington novel, a series he is well-known for, was published in 1991 by HarperCollins, New York Dead. You can head on over to his website, read more of his biography, and check out his extensive booklist.

The book I chose to read in celebration of his birthday is the third in the Stone Barrington series...Dead in the Water.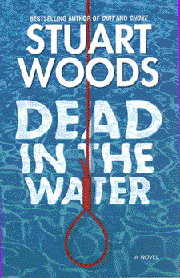 Title: Dead in the Water
Author: Stuart Woods
Publisher: HarperCollins
Published: 1997
Pages: 325
Genre: Thriller/Suspense
Series: Stone Barrington - Book #3

Stone Barrington, ex-cop turned attorney, finds himself on vacation in St. Marks by himself after being stood up by his live-in girlfriend. Sitting on his boat planning his next move, he watches a young woman, alone, sail a huge yacht into the harbor. After docking, he notices that there is some commotion going on over there that is involving the island police. He finds out what all the fuss is about from the owner of a local bar. A woman has arrived at the island alone...but she started out on the other side of the Atlantic with a husband...who is no longer on-board. Sir Winston, the minister of justice, wants to put her on trial for murder.

I just love the Stone Barrington novels...he is such a womanizer, but you can't help falling for him. This was definitely a page turner...I couldn't wait to see what happens...and what did happen was something I never expected. What a thrill ride. I can't wait to read the next in the series...Swimming to Catalina.

You can read my full review here.








Rating: 4.75/5
Pages: 325
Completed: 1/23/10