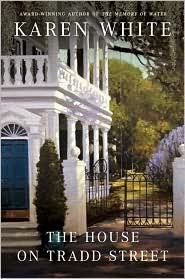 Title: The House on Tradd Street
Author: Karen White
Publisher: New American Library
Published: 2008
Pages: 329
Genre: Fiction/Paranormal/Romance (slight)
Series: Tradd Street - Book #1

Karen White pens a great story filled with ghosts, home restoration, witty dialogue, and two main characters that are vibrant and endearing. I love the dialogue that passes between Melanie and Jack. The secondary characters add a rich compliment to the book, and I can't wait to read more about them in the second book, The Girl on Legare Street.

Melanie can see ghosts though she won't admit that aloud to anybody. But when she inherits and old house from someone she only had one meeting with...she is going to have to accept it. Beneath the crumbling walls of her inheritance, lies a malevolent ghost that wants to keep the secrets of the house from being discovered.

Jack is a writer obsessed with unsolved mysteries. He believes that there are several stories involving the house...a woman's disappearance, diamonds, and possibly murder. So he decides to charm his way into Melanie's life and home. Now they need to unravel the mysteries before the evil force destroys them.

You can read my full review here.









Rating: 5/5
Pages: 329
Completed: 1/19/10