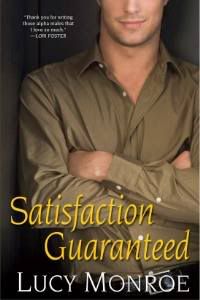 Title: Satisfaction Guaranteed
Author: Lucy Monroe
Publisher: Kensington Brava
Published: 2007
Pages: 294
Genre: Romance/Light Suspense

I enjoyed this book with its witty dialogue and sizzling romance. However, I felt that it was a little light in the suspense category. Most of the book revolved around Beth's struggles to find herself...discover who she really was without worrying about what others thought about her. All her life, people told her that she was too intense in regards to her emotions. So, she hid that part of herself...and finally, after the Ethan states the same thing...she has had enough. She steps up to the plate and tells it like it is...she is an intense person...and if you don't like it...there's the door!!! There weren't that many secondary characters...however, the ones that were there added to the storyline, and the ending gave me the impression that there are going to be more books about the agency.

Ethan is an agent in her father's organization and Beth runs the office. However, it took her ex-fiance to make her realize that she doesn't date agents...ever. They do not make good family men...the kind she wants to settle down with and have a family. However, when forced together on a mission for the agency...sparks begin to fly...however, Beth thinks Ethan's interest is because of the job. Ethan can't help but be impressed by Beth's work in the field...which is a total turn on. Will they be able to keep the passion at a simmer until the mission is completed? Or will the flames ignite into an inferno?

You can read my full review here.







Rating: 3/5
Pages: 294
Completed: 1/29/10