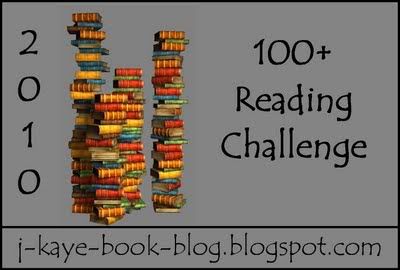 Once again I am going to try and read 100 books for the year 2010. J-Kaye has graciously decided to host this challenge again next year, and I am really looking forward to participating and reaching my goal.
The rules are simple...read 100 or more books in the year 2010. You don't have to review them, you don't even need a blog. Anyone can join. Audio, eBooks, YA, Young Reader, Nonfiction, Fiction, etc. all count. Crossovers with other challenges are fine. And the best part, you don't have to list your books in advance!!!! Here is the
sign-up post
.
I think I am going to try and stay away from challenges that require you to make a list of books prior to starting the challenge. This locks me in to reading certain books, and I am a reader that "flys by the seat of my pants" and chooses books by what ever mood I am in at the time.
Here is my list of books.
Naked in Death by J.D. Robb -

1/3/10

The Warrior by Sharon Sala -

1/6/10

Before Sunrise by Diana Palmer -

1/8/10

If He's Wicked by Hannah Howell -

1/16/10

The Playboy Sheikh's...by Sharon Kendrick -

1/18/10

The House on Tradd Street by Karen White -

1/19/10

Born in Fire by Nora Roberts -

1/21/10

Dead in the Water by Stuart Woods -

1/23/10

Hard to Hold by Stephanie Tyler -

1/28/10

Satisfaction Guaranteed by Lucy Monroe -

1/29/10

Shadow Prey by John Sandford -

2/5/10

Night's Master by Amanda Ashley -

2/13/10

Coming Undone by Lauren Dane -

2/15/10

The Carpenter's Lady by Barbara Delinsky -

2/19/10

Release by Beth Kery -

2/21/10

Vision in White by Nora Roberts -

2/26/10

Zack: Armed and Dangerous by Cheyenne McCray -

3/1/10

Hard to Handle by Lori Foster -

3/1/10

Wild, Wicked & Wanton by Jaci Burton -

3/7/10

Rewriting Monday by Jodi Thomas -

3/8/10

Bound, Branded, & Brazen by Jaci Burton -

3/13/10

Sarah's Child by Linda Howard - 3/15/10
Fragile by Shiloh Walker -

3/21/10

Bride, Bought and Paid For by Helen Bianchin - 3/22/10
Laid Bare by Lauren Dane - 3/25/10
Instant Attraction by Jill Shalvis -

3/27/10

Broken by Shiloh Walker - 4/8/10
"D" is for Deadbeat by Sue Grafton -

4/10/10

Bed of Roses by Nora Roberts -

4/10/10


















Savor the Moment by Nora Roberts -

5/4/10

Something About You by Julie James - 5/7/10

Love in Bloom by Sheila Roberts - 5/11/10

The Girl on Legare Street by Karen White - 5/17/10
Naked Edge by Pamela Clare - 5/19/10