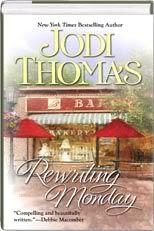 Title:
Rewriting Monday
Author:
Jodi Thomas
Publisher:
Berkley
Published:
2009
Pages:
343
Genre:
Romance with a touch of Suspense
In this book, Jodi Thomas does something a little bit different. She writes in both first person and third person. Not only do we get to delve into the thoughts of the narrator...but also the other characters as well. It might not seem like this would work...but it does, in a great way.
Pepper is the main heroine of the story and through her narrative, we are introduced to the town of Bailee and its inhabitants. She has come to the small town of Bailee to pull her life together after a making a mistake that ended her career as a reporter in Chicago. With less than $300 in her pocket, she arrives at the home of her Aunt only to discover her Aunt is in a nursing home, and the dwelling is a rundown mobile home. Left with no choice, she applies for a job at the local newspaper.
Mike is the editor and owner of the Bailee Bugle...not because he wants to be...but because he inherited the job after his father and brother died within months of each other. Living life full of regrets, Mike is the ultimate beta hero. Strong, yet shy, he keeps his inner turmoil hidden from the townsfolk. He has always been in the shadows...growing up with the town hero as his brother.
This is a great story with intriguing characters...ones that will keep you wanting more of their lives depicted in the story. Along with the romance of Pepper and Mike, there are secondary stories that keep you entertained...the threats involving the paper; a mysterious man seen around town; and the disturbing things that keep happening to Pepper.
You can read my full review
here
.



Rating: 3.75/5
Pages: 343
Completed: 3/8/10