COMPLETED 12/20/09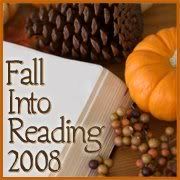 The rules are simple...make a list of all the books you would like to read this fall. That's it...nothing to it!! The challenge runs from Sept. 22 - Dec. 20, 2008. Go to her post on the challenge (link above) to sign up on Mister Linky after you have created your list on your blog. If you don't have a blog - you can post your list in her comments.


Without further ado...here is my list:
Purchased: His Perfect Wife - Helen Bianchin

10/14/08

The Healer - Sharon Sala

10/20/08

Review

Summer Light - Luanne Rice 10/27/08; Review

Line of Scrimmage - Marie Force 10/5/08;

Review

Out of the Mist - Joann Ross

11/3/08

Thirty Nights with a Highland Husband - Melissa Mayhue

12/7/08;

Review

Call of the Highland Moon - Kendra Leigh Castle

11/25/08;

Review

My Lord's Desire - Margaret Moore

11/30/08;

Review

Night's Kiss - Amanda Ashley

11/6/08;

Review

Deep in the Heart - Sharon Sala

11/27/08;

Review

The Lady Flees Her Lord - Michele Ann Young

11/20/08;

Review

Stardust of Yesterday - Lynn Kurland 9/26/08;

Review

A Babe in Ghostland - Lisa Cach 10/7/08;

Review

Only By His Touch - Catherine Anderson

11/18/08;

Review

These are mostly books to finish up some other challenges I am participating in. I will add more if my reading goes faster than expected!