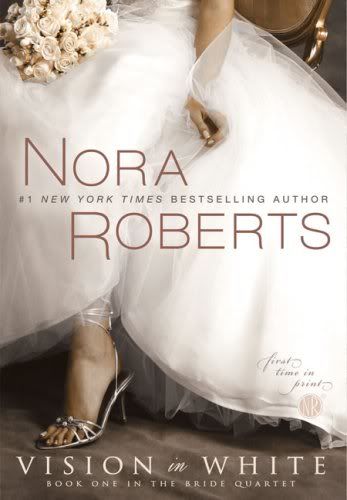 Title:
Vision in White
Author:
Nora Roberts
Publisher:
Berkley
Published:
2009
Pages:
325
Genre:
Romance/Humerous
Series:
Bride Quartet Book #1
Vision in White
is the first book in the Bride Quartet featuring four childhood friends who grew up to run a business together. They run a wedding service/consultant business...from the first stages of planning to holding the actual wedding and reception on the premises. Mackensie is the photographer, Parker is the OCD planner and powerhouse of the business, Laurel the cake decorator, and Emma the florist.
This is Mackensie's story...and it is laugh out loud funny as well as a tender romance that pulls at the heartstrings. Carter is the perfect hero for Mackensie. He is a nerdy, clumsy, high school English Lit teacher...who is extremely shy around women. Mackensie is a top notch photographer who can deal with the worst bride on the planet, but can't deal with her own mother. She is insecure in her private life, vulnerable, and is a total pushover when it comes to her mother.
What makes this story truly enjoyable is the dialogue...which includes Carter's self talk about his shyness with women, his best friend's advice on dating and "getting" the girl, Mackenzie's self talk about her commitment phobia, and the interactive dialogue between all the characters. Nora Robert's pens a witty, tender, contemporary romance that is just that...romance...no suspense, no intrigue...just a sweet story about triumph over a terrible childhood to realize that "Some things in life are out of your control. You can make it a party or a tragedy. Or...you could refuse to take the next step. You could refuse to take what you wanted most because you're afraid some day you might lost it."
You can read my full review
here
.




Rating 4.5/5
Pages: 325
Completed: 2/26/10