It is new month, and a new author to celebrate!!! John Sandford was born John Camp on February 23, 1994, in Cedar Rapids, Iowa. He won the Pulitzer in 1986 for a series of stories about a midwestern farm crisis. And has been writing suspense/thrillers since 1990. You can read more about him by visiting his biography on his website.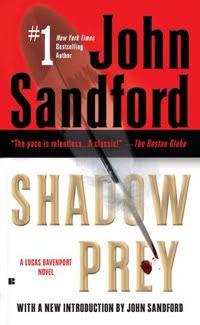 Title: Shadow Prey
Author: John Sandford
Publisher: Berkley
Published: 1990
Pages: 499 (eBook)
Genre: Suspense/Thriller
Series: Prey Series - Book #2

In visiting John Sandford's website, I read through his comments on writing the book Shadow Prey. One of the things he says stood out with me...

"A good thriller should carry the reader along, like a whitewater river. The can't-put-it-down characteristic is critical."
That just says it all...and
Shadow Prey
didn't disappoint. From beginning to end, I was carried along through the action and suspense...and was really surprised by the ending. He sure put Lucas through the wringer in this one - LOL. The police procedures weren't over-shadowing and the history behind the terrorists' actions wasn't over-powering. It was a great mixture and made for an interesting, action-packed, thriller. I enjoyed getting to know Lucas more...the secondary characters are well-developed, and it was great revisiting them.
A radical Native American group is killing prominent people in the US. Lucas, along with a New York City detective, Lily Rothenburg, are investigating the terrorists. Through twists and turns, they discover who they are and begin racing against the clock to find them in order to keep the body count from rising.
You can read my full review
here
.




Rating: 4/5
Pages: 499 (eBooks)
Completed: 2/5/10