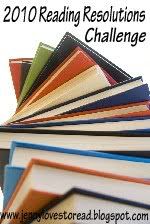 This sounds like a fun challenge...to make some New Year's resolutions in regards to reading. "They can be anything you would like to accomplish in the coming year in the realm of reading, book blogging, or perhaps personal growth." The 2010 Reading Resolutions Challenge is being hosted by Jenny over at Jenny Loves to Read. It will be interesting to see how well I do...

Here are my resolutions:

Read 50 books from the library. I want to utilize the library more.
Read 25 "New to me" Authors.
Read 25 of my own books.
Finish the Sookie Stackhouse Series.
Start 6 new series.
Review every book I read in 2010...(this is for a challenge that I am in).
Six seems like a good number to stop at...LOL. I want to keep it simple so that I can meet my goals.
What are your resolutions for the new year??