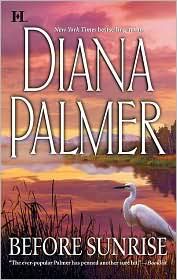 Title: Before Sunrise
Author: Diana Palmer
Publisher: HQN
Published: 2005
Pages: 296 Hardcover
Genre: Romantic Suspense

This is only the second book that I have read by Diana Palmer, and I enjoyed it very much. It is one of those curl up and "feel good" reads that you need every now and then. The relationship between Jeremiah and Phoebe steam up a few windows, and the suspense is engaging.

In Phoebe's last year of college, she met and fell in love with Jeremiah while he was investigating some environmental sabotage. They made plans to meet in DC and continue their relationship, but 3 weeks after her graduation she receives a newspaper clipping in the mail - Jeremiah's wedding announcement!!

Three years later, Phoebe has picked up the pieces of her shattered heart and is now the curator of a Native American museum near a Reservation in North Carolina. One day she receives a phone call from an anthropologist claiming to have discovered a Neanderthal skeleton in a nearby cave. But before Phoebe can pursue the matter, the man turns up dead and the FBI sends in Jeremiah to investigate.

You can read my full review here.







Rating: 3.5/5
Pages: 296
Completed: 1/8/10