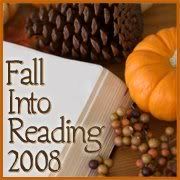 I completed the Fall Into Reading Challenge!! It was fun and easy to do. Thank you Katrina for hosting this fantastic challenge.

In our wrap up post she has given us some questions to answer.

Did you finish reading all the books on your fall reading list? If not, why not?

No, not the ones that I had originally posted. My tastes changed throughout the Fall and even though I want to read those books still - I didn't have the interest at the time.

Did you stick to your original goals or did you change your list as you went along?

I changed the list as I went along, however I did read the same number of books that I had originally planned.

What was your favorite book that you read this fall? Least favorite? Why?

My favorite book was Summer Light by Luanne Rice. She is one of my favorite authors and she didn't disappoint with this book!! It was a romance where the wedding was at the beginning and the story was about their trials and tribulations throughout their marriage. It was beautifully written and had me reaching for the tissues on numerous occasions!! Here is a link to my review.

My least favorite book was Out of the Mist by Joann Ross. It was a romance too, but it just didn't cut it for me. The heroine was too accepting of the hero's lies. He accused her of being a thief throughout the book - but in the end she didn't mind. It did, however, have some good parts too.

Did you learn something new because of the Fall Into Reading challenge?—something about reading, or yourself, or a topic you read about?

I learned that I tend to stay in the romance genre - whether it is historical, paranormal, mystery, suspense, intrigue, etc. I can't help it...I like a happy ever after - LOL. I do venture into other areas and enjoy them - but I am a true romantic at heart.

What was your favorite thing about the Fall Into Reading challenge?

I enjoyed challenging myself to read a certain number of books in a certain amount of time. I also liked looking at all the blogs and seeing what other people were reading. My TBR list has grown by leaps and bounds.

To see the original post where I have listed all my books and their reviews, you can go here.