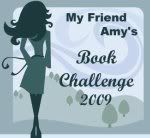 This is a challenge near and dear to my heart - buying and reading books.
The Buy One Book and Read It Challenge
is just that - you are challenged to buy one book in 2009 and read it. "There are many Americans who don't even read a single book in the span of a year... This challenge is designed to encourage you to rediscover the joy of reading, while supporting the authors who bring us books."
Amy at
My Friend Amy
is hosting this challenge - but for all you book lovers out there who already buy and read - she has a second option. Buy one book each month in the year 2009 and read it. That is the option I am choosing.
I will post my books each month as I purchase and read them.


Four Harlequin Presents - January - Reviews

Virgin River -

Robyn Carr - February - Review

The Vampire Shrink -

Lynda Hilburn - March - Review

Simple Wishes -

Lisa Dale - April - Review

The Inn at Eagle Point -

Sherryl Woods - May - Review