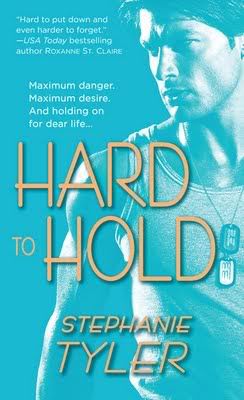 Title: Hard to Hold
Author: Stephanie Tyler
Publisher: Dell
Published: 2009
Pages: 370
Genre: Romantic Suspense
Series: Hard to Hold Trilogy - Book #1

Stephanie Tyler is a "new to me" author but not for long. As of right now I am perusing her backlist and writing the titles down on my To Be Bought list!! Her writing style is fantastic, and I was drawn into her world of Navy SEALs from page one. Between all the suspense and intrigue lies a love story so poignant and powerful...that it had me on the edge of my seat to see if they could work through all their problems. I have to say that this is not the traditional Happy Ever After...it is not all wrapped up in a neat little package. Their are still issues that need to be resolved, healing that needs to be worked through, in total...it is a realistic ending that has the reader hoping for the best...but knowing there will be bumps along the way.

Jake and Isabelle "meet" when he has the mission of rescuing her from rebel forces after being held captive and tortured for three days in Africa. The sparks fly from the beginning and keep flying until the ultimate igniting of a fire that burns so passionately it will have you fanning yourself from the scorching heat. However, the road to passion was not easily traveled. Both Jake and Isabelle have pasts that they have to heal from...Jake's as a child and Isabelle's captivity. Neither one wants to tear down the walls that they have built around their hearts...but "nothing could prepare them for a passion this wild...this crazy...this hot."

Jake has been assigned Isabelle's protector since her attacker has not been found. Being kept totally in the dark about the assignment, Isabelle tries to overcome her pain both physically and emotionally. But the truth finally comes out...that the attacker is still at large...that Jake is protecting her...and Isabelle feels totally betrayed by those that she loves.

I really enjoyed this book...the romance, suspense, intrigue, and even the background history on Navy SEALs training. It is fully engaging, and I couldn't put it down. It engages all the emotions that I, as an avid reader, wants pulled from me as I am reading a book. Tears, laughter, sitting on the edge of my seat, passion, and it is full of twists and turns that kept me guessing until the end. I can't wait to get me hands on the next in the trilogy and she if Ms. Tyler revisits some of the secondary characters in Hard to Hold that I feel, need some more attention...LOL!!!

You can read my full review here.








Rating: 4.75/5
Pages: 370
Completed: 1/28/10