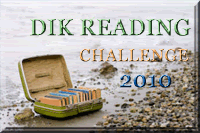 The DIK ladies are hosting a challenge in 2010...the
DIK Reading Challenge
. Each month you will pick
one of the 188 books
that the DIK Ladies have brought to the island, read it, review it on your blog and then show them the link.
If you complete all 12 months...your name will be thrown into a drawing for a $50 gift card from Amazon/Borders/Barnes or Noble/Books A Million (you choose).
Swim on over to the Island and read
all the rules
so you can be sure to get your name in the drawing.
Here is my tentative book list with links to my reviews:
Beyond the Highland Mist by Karen Marie Moning
Bed of Roses by Nora Roberts - 4/10/10 - Amanda's DIK Pick
Dark Lover by J.R. Ward

The Darkest Knight by Gena Showalter
Hard to Hold by Stephanie Tyler -

1/28/10

- Lea's DIK Pick

One Summer by Karen Robards (??)