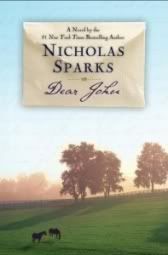 Title: Dear John
Author: Nicholas Sparks
Publisher: Hatchette
Published: 2006
Pages: 276
Genre: Romance

What can I say...I just love Nicholas Sparks. He has a way of creating a story that takes you on a roller coaster ride of emotions!! Always an author that moves me to tears...Dear John lived up to that reputation.

Told from the man's perspective...a love story that shows us what unconditional love is...tugs at the heartstrings...is touching and at times riveting. This one definitely goes on my keeper shelf.

John Tyree meets the girl of his dreams, and the attraction is mutual. But neither can foresee that 9/11 will change all that forcing John to choose between love and country. But Dear John is so much more than just a military love story...it deals with unconditional love...not only between two people, but family members too.

You can read my full review here.





Rating: 5/5
Pages: 276
Completed: 12/19/09