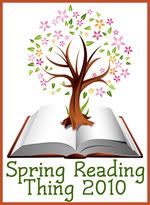 I am joining the
Spring Reading Thing challenge
again this year. I have participated in this a couple of times and really enjoy the "freedom" you have with this challenge. It is being hosted by Katrina over at Callapidder Days.She hasn't posted the sign-up post yet...I will link back to it when it gets published.
Not many rules...set your own goals with your own book list. The challenge runs from 3/20/10 to 6/20/10 to coincide with Spring!! She has
set up a post
that explains the whole challenge and even has answers to common questions.
I am shooting for 10 books this Spring. Here is my list of books with links to my thoughts on them:
The Last Song by Nicholas Sparks
311 Pelican Court by Debbie Macomber - 4/26/10
"D" is for Deadbeat by Sue Grafton -

4/10/10

True Blue by Luanne Rice - 5/3/10
Fireworks Over Toccoa by Jeffrey Stepakoff
Marley & Me by Josh Grogan
Bed of Roses by Nora Roberts -

4/10/10

The Girl on Legare Street by Karen White - 5/17/10
Highland Honor by Hannah Howell
Bride, Bought and Paid For by Helen Bianchin - 3/22/10