I think I have found another thing that I like just as much as challenges and reading - and that is reader's groups. I have joined about just as many groups as I have challenges - I love them!!
Today I joined the
Mystery Reader Cafe
and I also joined
On the Porch Swing
. I hope to make many new friends on these groups. Not only did Mystery Reader have a book challenge but On the Porch Swing has a challenge also. And, yes, I am joining.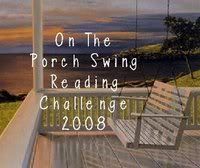 The rules are as follows...

1. Read a book with a color in EITHER the title or the author's name.
2. Read a book with a person's name in the title.
3. Read a book with the word house, or home, or cottage in the title (only one book with either of those words in the title).
4. Read a book with the word family, brother, or sister in the title (again, only one book with either of those words in the title).
5. Read a book with some type of water in the title -this could be ocean, lake, pond, river, rain, etc.

Here are my choices:
Color:
White Lies - Jayne Ann Krentz
3/6/08;
Review
Name:
Harry Potter and the Sorcerer's Stone - JK Rowling
02/08/08
;
Review
House:
A Painted House - John Grisham
01/21/08
; Review
Brother: Three Weeks with my Brother - Nicholas Sparks
Water:
Lake News - Barbara Delinsky
8/7/08;
Review