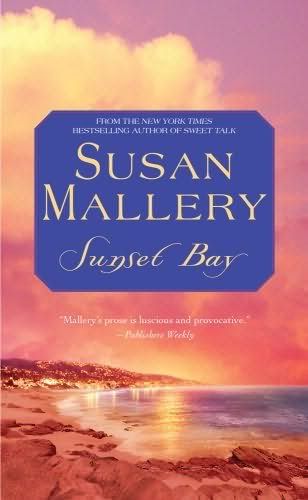 Title: Sunset Bay
Author: Susan Mallery
Publisher: Pocket
Published: 2009
Pages: 342
Genre: Contemporary Romance

Sunset Bay begins with Megan as a young girl of 18 caught up in a world with a doting father, hypochondriac mother, and estranged sister. She experiences her first love and devastating breakup. Always wanting to please her father, she gives up her dream of fashion design and becomes an accountant.

Fast forward 10 years and we see that Megan has the perfect life...handsome cardiologist fiance, the love and approval of her father, and a successful career. However, within a few weeks time, everything comes crashing down around her. And in the midst of all this turmoil, who shows up but her high school love - Travis. Amid the rubble of her life "lies the promise of a future Megan never realized - on that may turn out to contain everything she really needs."

Susan Mallery keeps her audience entertained throughout the entire book with twists and turns you never expect. The pages keep turning because you want to know how Megan will deal with the next crisis. The side stories are engaging and flow smoothly within the book.

You can read my full review here.




Rating: 3.5
Pages: 342
Completed: 11/25/09