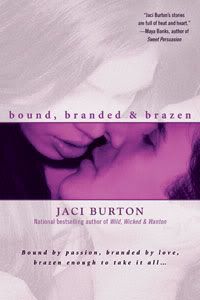 Title:
Bound, Branded, & Brazen
Author:
Jaci Burton
Publisher:
Berkley
Published:
2010
Pages:
324
Genre:
Erotic Romance
What an intensely emotional, passionate read!!! Jaci Burton pens one
hawt
romance about three sisters and three sexy, hunky cowboys.
Bound, Branded, & Brazen
contains three separate stories interconnected because the heroines are sisters. Jolene has been running the family ranch while the other two left home to pursue other interests. However, it is time for them to return home to decide what to do about their interest in the ranch. Both sisters promise to stay for one month, but little did each sister know that it would be a "hot date with destiny."
In BOUND, Valerie has left the ranch and her ex-husband behind...pursuing a career as a doctor in the big city. The ranch only holds heartbreak for Valerie, ever since her parents died. Not wanting to risk her heart again, she divorces her husband, the ranch foreman. "Now, seeing him brings back sizzling memories. But their rekindled fire threatens to burn them both."
I loved Mason's strength of character...his ability to let Valerie find her heart and discover that loving is a risk but reaps the greatest rewards. Valerie is so devastated by her parents death that she lets it overshadow her marriage. Not the greatest at communication, she hides her fears deep in her heart.
In BRANDED, Brea has had some bad relationships that left her with little self-confidence. With the help of her sisters, she reforms her outward appearance, but still feels the awkward, gawky girl inside. Gage, the horse trainer, sees the beautiful woman Brea is on the inside. And with the same gentle but firm hand he trains his horses with...he guides Brea into fulfilling all her desires. "But can she live out her fantasy with a man who might ask for more than she's willing to give?"
Gage was my favorite of the three heroes. He is a no strings/no commitment kind of guy...but he is also straightforward and lets his stipulations known at the very beginning. He is the ultimate cowboy...definitely a alpha male. Brea is so insecure...but it was great reading about her "coming out" and gaining the confidence she so needed. I could relate to Brea in a lot of ways.
In BRAZEN, Jolene has wanted ranch hand, Walker, since he came to the ranch. But Jolene is the boss, and Walker can't afford to lose his job by getting too close. There are some hidden secrets in Walker's past, and they have made him leery of getting into any kind of relationship with Jolene. So, it is up to her to make the first move..."because what Jolene wants, Jolene gets."
I like Walker because he is trying to do the honorable thing by steering clear of Jolene. However, he does keep tight-lipped about his past...which we all know that communication is the key! Jolene is brash and sassy and is just the type of woman to draw Walker out.
You can read my other review
here
.




Rating: 4.5/5
Pages: 324
Completed: 3/13/10