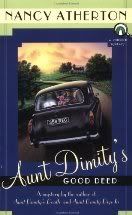 Aunt Dimity's Good Deed is the third book in the Aunt Dimity series written by Nancy Atherton. This is a really good cozy mystery series and I have enjoyed all three books that I have read.

Lori Shepherd is off on another adventure with Aunt Dimity, this time looking for her missing father-in-law, Willis, Sr. What should have been a second honeymoon for Lori and her workaholic husband Bill, turns into a trip with her father-in-law instead. Once they reach Aunt Dimity's English cottage, strange things start to happen. Willis, Sr. disappears, office supplies and furniture start showing up at the cottage, and Lori develops an unseemly attraction to Bill's dashing English cousin, Gerald.

You can read my full review here.
Rating: 4/5
Pages: 276
Completed: 6/1/08