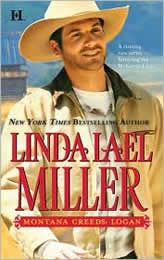 Title: Montana Creeds: Logan
Author: Linda Lael Miller
Publisher: HQN
Published: 2009
Pages: 374
Genre: Romance

This is just one of Linda Lael Miller's new books for 2009, and she starts the year off with a bang. Montana Creeds: Logan is the first book in the Creed Brothers' trilogy - they are three estranged brothers who come home to find family - and love.

Logan has sold his online legal company, given up his wandering ways, and returned home to put down roots and restore his family's ranch. Briana is a divorced mother of two boys who is renting a home on the Creed land. She is surprised that Logan relates so well with her children after hearing all the stories about the brothers hell-raising. But after her ex returns, and some one sets out to terrorize her by vandalizing her home, Logan shows Briana - and the town - what the Creed boys are really made of.

This is a great romance - Briana is a tough mother who has had to survive against the greatest of odds, and Logan is your typical rowdy cowboy who wants to remedy the past by reestablishing his relationship with his brothers and to have a family of his own. The kids were realistic as was the budding relationship between Logan and Briana. The only thing that I didn't like was Briana's quick trust in her ex after being abandoned two years before in a Walmart parking lot with nothing but the two boys. She immediately releases the boys into his care as soon as he shows up in Stillwater Springs. I think she should have been a bit more cautious.

All in all it was a sweet romance with likable characters, a bit of suspense with the vandalism, and a whole lot of fun to read.

You can read my full review here.




Rating: 3.75/5
Pages: 374
Completed: 4/1/09