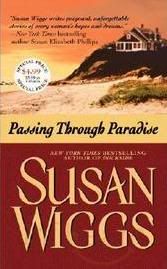 Title: Passing Through Paradise
Author: Susan Wiggs
Publisher: Hachette
Published: 2002
Pages: 419
Genre: Romance

Another good book from Susan Wiggs. Even though this is one of her older books - I still enjoyed it and was totally immersed in the book. Her characters are vivid, and their emotions come rolling off the pages.

Sandra is a complex character - having to overcome the accusations of an entire town. Her husband's death was ruled an accident, but the townspeople believe she is guilty. Having been under suspicion for over a year, Sandra decides that it is time to move on - away from Paradise. Wanting to sell her childhood vacation home where she has been in hiding, she needs to hire a contractor to restore it to its original beauty.

Mike Malloy is a contractor who has lost everything. Through divorcing his wife, he lost his company and is about to lose his children. While waiting for the courts to decide his visitation rights, he decides to take the job of restoring Sandra's house. "She soon realizes he's skilled with his hands...and at touching her lonely heart."

Although this book is light on romance, it is complex in plot, characterization, and emotion. Another great read by a fantastic author - she touches the heart with her writing and brings to life a world rich with beautiful descriptions and characters that will be remembered long after the book is done.

You can read my full review here.




Rating: 3.5/5
Pages: 419
Completed: 4/7/09