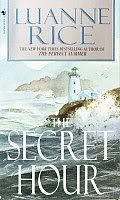 Title: The Secret Hour
Author: Luanne Rice
Publisher: Bantam
Published: 2003
Pages: 395
Genre: Suspense/Romance

This was a different kind of book then what I am used to reading by Luanne Rice. It was filled with suspense and mystery as well as a good romance. She wrote with just the right amount of twists and turns to keep me interested and wondering how it would end. I love it when an author can keep me guessing. Another selling point was that the children were children...they misbehaved, talked back, and acted their age. A pet peeve of mine is when the children in a romance novel are so "perfect" and understand adult situations at such a young age - just doesn't ring true with me.

John O'Rourke is an attorney trying to hold his family together after the death of his wife. Not only is he having to deal with his children, but the whole town is against him since he is defending a serial killer and trying to get him off of death row.

Kate Harris is looking for her younger sister after she left home because of a devastating confrontation. With only a postcard to go on, Kate comes to the seaside, and discovers that John is the one man who may be able to help her...but will he go against everything he believes in to give Kate the information she seeks?

You can read my full review here.




Rating: 3.5/5
Pages: 395
Completed: 4/25/09