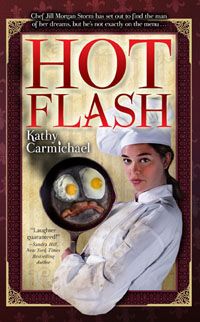 Title: Hot Flash
Author: Kathy Carmichael
Publisher: Medallion Press
Published: 2009
Pages: 371
Genre: Women's Fiction/Romantic Comedy

Man, I wish I could remember where...but, I won an autographed copy of this book from one of my blogger friends - I just can't remember who. I think I am going to have to start writing this info down so I can give credit where credit is due.

This book made me laugh until tears were coming out of my eyes. It is about a forty-year-old, pre-menopausal chef who is the mother of a teenage son. Need I say more? Hysterical. She decides she needs to find a husband who can help pay her son's college tuition. So she starts by mailing out surveys to all the happily married couples she sees in the newspaper that are celebrating their anniversaries. The comments she gets back about having a successful marriage vary, but there is an underlying theme to all the answers...their husbands were gone for long periods of time. So, she sets her sights on traveling salesmen.

Next comes the disasterous dates, antics of her teenage son, problems with her job, and attention from the one man who is the exact opposite of the type of man she is searching for...he is an elementary school teacher.

Kathy Carmichael does a wonderful job of creating situations that will make you laugh out loud, dialogue that is witty and fun, characters that are truly exceptional and engaging, and the story flows smoothly from beginning to end.

You can read my full review here.




Rating: 3.75/5
Pages: 371
Completed: 4/30/09