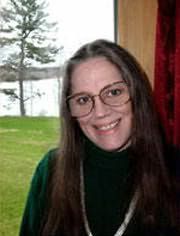 Wow, I can't believe another month has gone by, and it is time to Celebrate another author. This month is Hannah Howell's birthday, and I celebrated it by reading Highland Captive. This is a reissue of her 1990 novel, Elfking's Lady.

This is also for my TBR challenge where we had to read a historical novel for the month of March.

Aimil is kidnapped by Parlan MacGuin - known as Black Parlan. He holds her for ransom which starts a feud between the MacGuin clan and Aimil's betrothed. Not wanting to marry Rory, for he has a ruthless reputation, she willing gives up her virtue to Parlan. Known for being a fierce warrior, underneath he is an honorable man. Though Aimil sets out to hate him, she cannot deny her desire for the man who holds her captive.

I loved the characters in this book - from Aimil's strong personality to Parlan's quick wit, and the intriguing ways he comes up with to bend Aimil to his will. The secondary characters add depth to the story, and there are a couple of underlying subplots that worked well.

You can read my full review here.





Rating: 4.5/5
Pages: 359
Completed: 3/15/09